From the Buster House Gift Shop and Castlemoyle.com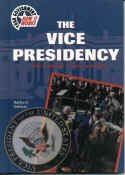 Original Price: $17.95
Your Price: $16.16
You Save: $1.79
The Vice Presidency
Category: Social Studies: Government

Catalog # SOCI22660

Manufacturer: Chelsea House

Description: The Vice Presidency attempts to shed light on the official often referred to as being a heartbeat away from the presidency. If tragedy strikes and the presi-dent is unable to fulfill the duties of the office, the vice president steps in to become president.
In the early days of the United States, vice presidents had few official duties. Gradually, though, the office of the vice presidency began to assume more importance. Today a vice president is typically a trusted member of the president's cabinet, filling the roles of adviser, advocate for the administration, and emissary to foreign powers, while still presiding over the Senate, as the very first vice president did.
---
From the start, Americans have regarded their government with a mixture of reliance and mistrust. The founders of the republic understood the importance of government. "If men were angels," observed the 51st Federalist Paper, "no government would be necessary." But men are not angels.
The delegates who gathered in Philadelphia in 1787 to write the Constitution had two purposes in mind: They wanted to establish a strong central authority and to limit that centvul authority's capacity to abuse its power.
The series YOUR GOVERNMENT: HOW IT WORKS provides an in-depth examination of our government and its processes and makes clear how our informed partici-pation is crucial to government's serving both the individual and the American people as a whole.
---
Other Books in the Your Government -- How it Works series
The Attorney General's Office
The Cabinet
The Central Intelligence Agency
The Drug Enforcement Administration
The Federal Bureau of Investigation
History of the Democrat Party
History of the Republican Party
History of Third Parties
The House of Representatives/a>
How a Bill is Passed
How to Become an Elected Official
The Impeachment Process
The Presidency
The Internal Revenue Service
The Secretary of State
The Senate
The Speaker of the House of Representatives
The Supreme Court
The U.S. Armed Forces
The U.S. Constitution
The Vice Presidency

Condition Information
This book is new.

Comments to: castlemoyle.com
© Castlemoyle Books and Gifts
Office hours are 8:30 a.m. to 4:30 p.m. (Pacific Time)
We are closed weekends and U.S. Holidays
Castlemoyle Books
694 Main Street
Mail: PO Box 520
Pomeroy WA 99347
Phone: 509-843-5009
Toll Free Orders 1-888-SPELL-86
Fax: 509-843-3183
email: info@castlemoyle.com

Page Name: www.castlemoyle.com/shopping/1bookt.asp?idno=SOCI22660